In short, Sunsation Beach means - the finest sandy beach, great courts, and beach volleyball with players from all over the world, from beginners to world tour professionals. Fill your days with rewarding practices and fun tournaments, and kick back at our after-beach sessions with the best vibe. Travel here alone or with friends. We all share a love for beach volleyball and the curiosity to meet new wonderful people.
1st place Tourism Award 2020
Skill Level
We welcome all levels
Season
April to May
September to October
Available Camp Dates
Although Sunsation Beach has a substantial capacity, with up to 150 players each week, weeks get sold out. Here you can check the availability for the weeks you are interested in:
Week 1: 23.03. - 31.03.2024 - Free spots
Week 2: 31.03. - 07.04.2024 - Free spots
Week 3: 07.04. - 14.04.2024 - Free spots
Week 4: 14.04. - 21.04.2024 - Free spots
Week 5: 21.04. - 28.04.2024 - Free spots
Week 6: 28.04. - 05.05.2024 - Free spots
Week 7: 05.05. - 12.05.2024 - Free spots
Week 8: 12.05. - 19.05.2024 - Free spots
Week 9: 19.05. - 26.05.2024 - Free spots

Week 1: 14.09. - 22.09.2024 - free spots
Week 2: 22.09. - 29.10.2024 - free spots
Week 3: 29.09. - 06.10.2024 - free spots
Week 4: 06.10. - 13.10.2024 - free spots
Week 5: 13.10. - 20.10.2024 - free spots
A Premium Beach Volleyball Camp
The best spot in Europe
A beach camp at Sunsation Beach is so much more than just a ball, a net and a coach. Right from the start we took pride in offering an exclusive beach venue our guests, from from sunrise to sunset. Today this means that no matter what package you book with us you will have access to more goodies and fun than with any other organizer. With that said, the biggest value and what motivates us the most, is to always have great vibes for you during your stay and that you travel home having met new friends. 
Read more about what's included »
Welcome Home
Just under an hour away from Valencia, we've found the perfect spot for beach volleyball. The nearly flat, silky smooth, and bright sandy beach resembles Santa Monica Beach's palm-lined promenade. You'll find various restaurants, bars, shops, and outstanding nightlife here, especially during the weekends. Since the start, hundreds of players from all over the world have come together every year on our beach arena, Sunsation Beach #homeofbeachvolleyball.
Read more about Gandía »
Accommodation - Your Home in Gandía
Our accommodation options in Gandía are just a line shot away from the beach. When staying at the hotel, you can have epic sunrises as your wake-up call, followed by a delicious breakfast overlooking the beach courts. The apartments give you more flexibility and space to stay with new and old friends, and you can cater your own food. You choose the type of accommodation that suits you best.
Hotels
Even though we mainly hang out together on the beach, we have chosen the hotels carefully. Our first choice, RH Bayren Hotel, is best in class in all respects: service, beds, and food.

Holiday Apartments
Do you travel solo or in a group that wants to stay together? In our holiday apartments, there is enough space to hang out and do cookouts together. You can choose to book a room for yourself or an entire apartment.
Read more on accommodation »
If you have fun, you learn faster
Whether you're a beginner, a hobby player, or an experienced tournament player,
our training program is perfect
! We fly in top coaches who ensure you have fun while getting the tools to become a better player. After the
siesta
,
we hope you are ready for the daily tournament to continue working on what we practiced in the morning.
If you wanna play and compete, that's fine too. Please participate in our women's, men's, or mixed tournaments with many other international players. Play, have fun, develop and fight for your spot at the top of the podium.
Read more on our beach volleyball offer.»
Activities & Adventures
When you're done playing for the day, or simply need a break from the sand, there are plenty of options for a half-day or full-day adventure. Stay and explore Gandía with its beautiful surroundings, play a padel match or why not take a trip to the provincial capital, Valencia, and watch the home team play top level La Liga football.
Read more about After Beach »
Your road to the perfect volleyball beach
Traveling to our gem on the east coast of Spain is very easy. Depending on where you are flying in from, there are direct flights to Alicante and Valencia. The last bit from the airport is easiest to take by car. Take the opportunity to rent a car if you travel together as it is very affordable. Public transport to/from Valencia is also a good option if you don't carry a lot of luggage. Of course, we offer airport transfers from both airports if you want to kick back and enjoy the ride.
Read more about Getting There »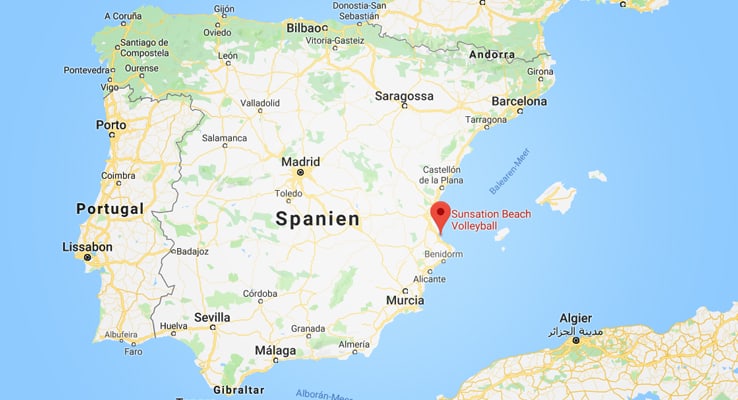 Start your volleyball vacation