Playing beach volleyball in a unique setting on a beautiful beach. This really sums up the first impressions after your afternoon tournament on Plakias Beach. From here it only gets better with super friendly vibes, delicious food at cute restaurants and fantastic sundowner sessions.
1 week beach volleyball camp in Plakias on Crete, Greece
Amazing scenery on a dreamy beach location 
10 hour training in small balanced groups
maximum 30 participants (beginner, hobby player and advanced)
Top courts, sand and Mikasa balls
free water during your training
Accommodation in self catering Paligremnos Studios
A varied and fun week activity program
1 week beach volleyball camp in Plakias on Crete, Greece

Amazing scenery on a dreamy beach location 

10 hour training in small balanced groups

maximum 30 participants (beginner, hobby player and advanced)
Top courts, sand and Mikasa balls

free water during your training

Accommodation in self catering Paligremnos Studios

A varied and fun week activity program
When exploring Crete, the largest Greek island, we found a real insider tip for you. Far away from the large and generic all inclusive resorts, together we will enjoy the tranquility of Plakias beach, surrounded by the mountains and the sea. Experience the true Greek lifestyle on the pearl of the Mediterranean, make an escape with friends to our new beach volleyball camp and spend a week filled with great training, food and fun.
Beach Volleyball Crete Kreta
Beach Volleyball Crete Kreta Sea Meer
Beach Volleyball Crete Kreta Church Kirche
Beach Volleyball Crete Kreta Beach Strand
Still in 1961, Plakias was a village of just six fishery families and even today our local secret is home to no more than 300 people. 
The main beach of Plakias is about 1.5 kilometers long and it's surrounded by endless mountain ranges. This is the perfect place to let all the stress from home drift away and give your body and mind some pure chillaxation. Enjoy the beach, be yourself in a lighthearted atmosphere and play beach volleyball until the sun sets over the mountains taking a dip in the sea.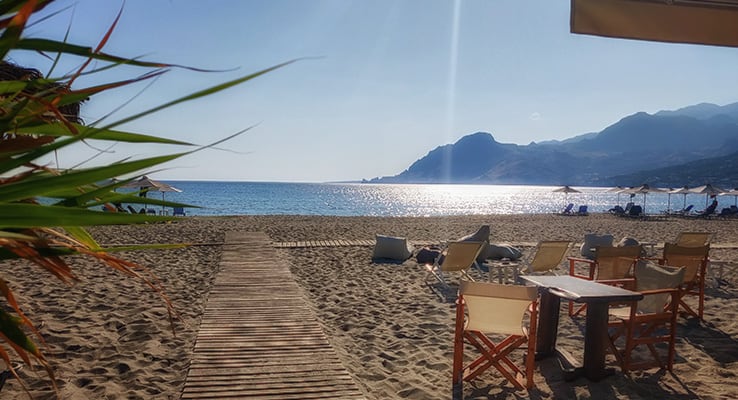 Strand Plakias Volleyball
The motto for our Beach Camps is "Come as a player and leave as a friend".
Because of this we value the side events with you nearly higher than our time together on the courts. Whether it is; an excursion in the mountains or by the sea, a mountaineering or bike ride, a social camp dinner or just a fun evening at the beach bar, we have loads of ideas and together we choose what we feel like doing. Could it be you also only wanna spend the sunny days on the beach court?
In our beach volleyball camp the courts are exclusively reserved for our guests. This is to make sure that you can play all day with your friends or pick up a challenge from the other players. We have also made sure you have free access to volleyballs when you need them. We welcome beach volleyball players of all levels to this super chill camp. Beginners, hobby players, advanced and tournament players.
With us all participants get what they need, namely training at their level. To do this, we will put you in a suitable training group to improve your beach volleyball skills in fun and rewarding sessions. In the mornings, from Monday to Friday, we train for two hours with each group getting their own coach.
If the morning trainings aren't enough for you and you'd like to train and learn more. Then make sure to book private training sessions with the Volleytours coaches. Work alone, with the coach, or with friends. Just talk to the coach, of your choice, onsite and he will help you bring your game to the next level.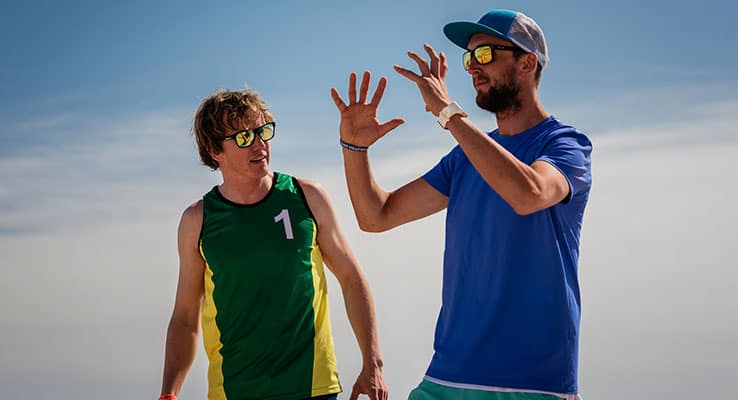 Twice each camp week our beach heats up a little extra. On Sunday afternoon, we play the welcome tournament for everyone who already arrived. This is the best way to get to know the other participants. Come Friday we battle it out in the final tournament of the week. The goal is to have everyone play as much as possible in both tournaments. Therefore, we always decide on the format based on the number of registered participants shortly before tournament. Players of all levels are welcome. If you register without a partner we try to find a partner for you.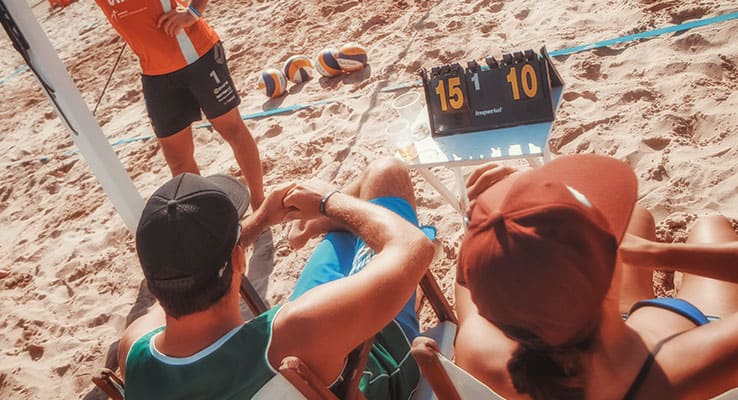 The family-run and cozy Paligremnos Studios, located at the very end of the sandy beach of Plakias, has just 18 rooms. The accommodation is rated "fabulous" on booking.com and can be booked for up to four people. The self-catered rooms have free Wi-Fi and a balcony, overlooking the Cretan Sea or the mountain range. All rooms have air conditioning, a well-equipped kitchenette with a fridge and coffee maker and a dining area. The rooms also have a private bathroom with shower.
Free private parking is available on site.
Link to the Hotel website
HOTEL WEBSITE >>
Paligremnos Studios Greece
The travel period for our beach camps in Crete is always set to 6-8 days. Saturdays and Sundays are planned as arrival days, so that you have no time pressure getting there. The departure takes place the following weekend at the time of your choosing.
Accommodation and camp, including training is booked directly on our website or by email request. We do not offer camp participation with external accommodation. You just have to take care of getting to Plakias and we take care of the rest :)
On Crete there are two larger airports. You organize your own transportation to the camp. Book your flights to Chania (CHQ) or Heraklion (HER). To get a good flight overview and prices you can use services like Skyscanner and Google Flights.
A standard taxi to our beach costs about 100 € per trip which means that renting a car is a good option. With a car you are more independent and flexible to see more of the surroundings. Use services like rentalcars.com and similar search engines to search for affordable rental cars. 
Traveller tip! Pay close attention to the rental conditions and especially included kilometers. What seems to be a bargain can turn out to be a shitty deal at the end.
* All prices are per person and the camp pass with training includes accommodation for 6 nights. Extra nights can also be booked as a supplement.